Mech-7 Mask

This article is outdated. You can help Robocraft Wiki by updating it.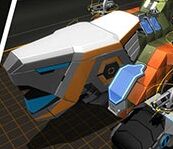 The Mech-7 is a mask available from the Forge for purchase for a total of 24,000

It was introduced in the Dawn of the Megabots hotfix #3 along with the Sabretooth Mask.
When this mask was released, the T3 Trax robot was modified to include it.
The parts include the following:
| Image | Price | Health | CPU Load | Mass (kg) |
| --- | --- | --- | --- | --- |
| | 4,000 | 2,100 | 1 | 2 |
| | 4,000 | 2,100 | 1 | 2 |
| | 4,000 | 2,100 | 1 | 2 |
| | 4,000 | 2,100 | 1 | 2 |
| | 4,000 | 2,100 | 1 | 2 |
| | 4,000 | 2,100 | 1 | 2 |