Mech-7 Maske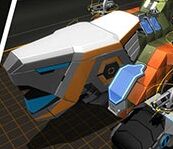 Mech-7 ist eine Maske, die in den Bereich Dekoratives fällt.
Sie wurde im Rahmen des Dawn of the Megabots hotfix #3 zusammen mit der Säbelzahntieger Maske eingeführt.
Als die Maske eingeführt wurde, wurde der T3 Trax-Roboter mit der neuen Maske modifiziert.
Die Maske besteht aus folgenden Teilen:
Jedes Teil der Mech-7 Maske hat die selben Werte wie alle Dekorativen Blöcke.